All of our Bedding Sets are custom-made-to-order and handcrafted to the highest quality standards.
Features a single-sided full color print on luxurious brushed polyester fabric.
Includes one duvet and two pillow cases.
Comforter, bed sheets and pillow inserts are not included.
Constructed with cozy yet lightweight premium materials that are soft to touch.
Tie-down corners to ensure secure placement of comforter insert.
Machine washable with cold water gentle cycle and mild detergent.
Please allow 5-7 days to receive a tracking number while your order is hand-crafted, packaged and shipped from our facility. Average shipping time is 2-4 weeks.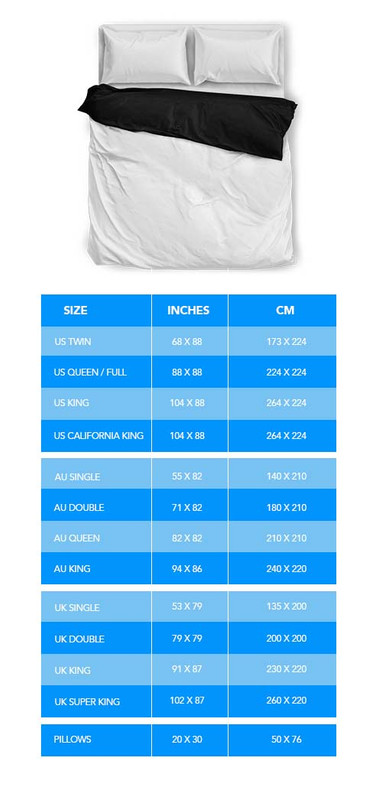 Read the item description before buying, this is not a sheet set, it's a duvet cover!
I didn't read it and now I'm stuck with something very expensive that I can't use. The pillow covers are slipcovers too, not pillowcases. Since bedding, to me, infers sheet sets or a comforter, I didn't stop to read what it was...So be careful :) That said, it does look very cute, I just wanted a sheet set, not something I have to coordinate with it.
Tykables Bedding Set
First off let say i have been waiting so long to have so adult baby bedding. I got sick and tired of buying cheap Wal-Mart character bedding. Now on to the review
This set is so comfy and adorable. It really put me in my Little headspace being snuggled down in this adorable bedding. Thw quaikty is really something to admire. One thibg you have to remember as I learned, this comforter is called a "duvet cover". This means it has a zipper and what you do is put a comforter or blanket inside of this. I love the feel of the brushed polyester finish on this. Feel awesond against my skin. If I was to rate this from 1 to 10, 1 being terrible quality and 10 being top notch, I'd give it a 10. You fellas at Tykables knocked it out of the park with this bedding. Thanks for making my dream come true.
bABy Robert aka
Crinkles The Bunny